Calgary, Alberta / ACCESSWIRE / January 28, 2015 / Palliser Oil & Gas Corporation ("Palliser" or the "Company") (TSX VENTURE: PXL) would like to provide information on its oil and gas reserves as of December 31, 2014 and an operations and corporate update.
Reserves Summary
Palliser's reserves have been independently evaluated by the Corporation's independent reserve engineering firm, Sproule Unconventional Limited ("Sproule"). The reserves were evaluated in accordance with National Instrument 51-101 Standards of Disclosure for Oil and Gas Activities ("NI 51-101") and the Canadian Oil and Gas Evaluation Handbook (""COGEH"") reserves definitions.
Reserves and Net Present Value (Forecast Prices and Costs)
The following tables summarize Palliser's remaining gross interest reserve volumes along with the value of future net revenue utilizing Sproule's forecast pricing and cost estimates as at December 31, 2014.


Click Image To View Full Size


Click Image To View Full Size
(1) Values shown are calculated on a before tax basis
Pricing Assumptions
The following benchmark prices, inflation rates and exchange rates were used by Sproule for the forecast price and cost evaluation effective December 31, 2014.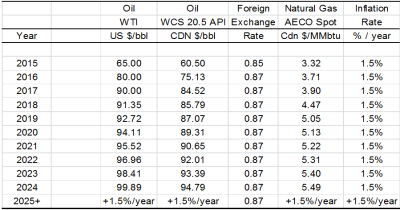 Click Image To View Full Size
Crude oil price is WTI at Cushing, Oklahoma, natural gas is the AECO spot price
Reserves Reconciliation
The following table is a reconciliation of Palliser's gross interest reserves at December 31, 2014 and December 31, 2014 using Sproule's forecast pricing and cost estimates as at December 31, 2014 and December 31, 2013.


Click Image To View Full Size
(1)Additions include discoveries, extensions, infill drilling and improved recovery
(2) Technical revisions include technical revisions and economic factors
(3) Heavy Oil also includes a very small component of light/medium oil and natural gas liquids
Finding, Development and Acquisition Costs
The following table summarizes Palliser's finding, development and acquisition costs for the years ended December 31, 2014, 2013, 2012, 2011 and 2010 including future development costs.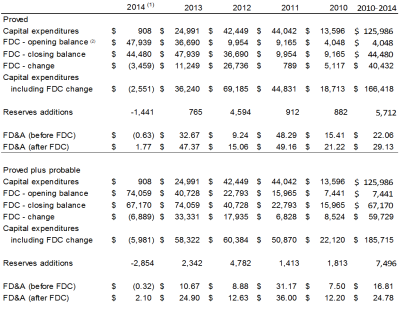 Click Image To View Full Size


Click Image To View Full Size
(1) FD&A's and recycle ratios are not meaningful in 2014 due to negative reserve revisions but five year calculations are valid
(2) Future capital expenditures required to convert proved non-producing and probable reserves into proved producing
Undeveloped Land
The following table summarizes Palliser's undeveloped land holdings and the fair value of those landholdings, as at December 31, 2014 and 2013:


Click Image To View Full Size
Net Asset Value


Click Image To View Full Size
(1) Present value discount 10% before taxes.

(2)Valuation is based on management's estimation of fair market value. Land value assumes $300 per acre for undeveloped heavy oil acreage with no booked reserves and $100 per acre for natural gas acreage with no booked reserves.
(3) Working capital (net debt) for 2014 is unaudited and subject to change, Working capital (net debt) is a non-IFRS measure representing the total bank loan, accounts payable and accrued liabilities, less accounts receivable, deposits and prepaid expenses.
Reserve Life Index ("RLI")
The reserve life index has been calculated based on year end reserves divided by fourth quarter 2014 average production of 1,181 boe per day.


Click Image To View Full Size
Operations Update
Palliser achieved production of 1,181 boe/d (98% oil weighting) during the fourth quarter of 2014. The capital program for 2014 amounted to $3.8 million which was offset by $2.9 million received for disposed assets and the Company exited 2014 with net debt of $47.3 million (production and financial amounts are unaudited and subject to change).
Production in the first quarter of 2015 is forecast to drop significantly as the Company has shut in production which is not economic to produce at current oil prices. Current production is approximately 800 bpd although average reported production in January is expected to be somewhat lower due to replenishing inventories produced in December, 2014. Capital expenditures in the first quarter are forecast to be minimal and funds flow from operating activities is expected to be negatively impacted by decreases in both production and prices, resulting in increased operating costs and lower operating netbacks.
Corporate Update
The Company's producing base, inventory of over 107 heavy oil locations, 9 salt water disposal facilities provides a platform for significant future growth.
Given Palliser's current financial position, the Company is examining any and all avenues to further improve the interests of shareholders. Options being examined include joint ventures, corporate combinations, asset sales and financing options.
For further information please contact:
Kevin J. Gibson
President&CEO
kgibson@palliserogc.com
(403) 209-5717
Palliser is a Calgary-based emerging junior oil and gas company currently focused on heavy oil production in the greater Lloydminster area of both Alberta and Saskatchewan. For further information regarding Palliser Oil & Gas Corporation, the reader is invited to visit the Company's website at www.palliserogc.com.
Advisories & Contact
Forward-Looking Statements
Certain statements contained herein constitute forward-looking statements or information (collectively "forward-looking statements") within the meaning of applicable securities legislation, including, but not limited to management's assessment of future plans and operations, including: commodity focus; drilling plans and potential locations; expected production levels; development plans; reserves growth; production and operating sales and expenses; reservoir characteristics; the results of applying certain operational development techniques; certain economic factors; and capital expenditures. Forward-looking statements are typically identified by words such as "anticipate", "estimate", "expect", "forecast", "may", "will", "project" and similar words suggesting future events or performance or may be identified by reference to a future date. In addition, statements relating to oil and gas reserves and resources are deemed to be forward-looking statements as they involve the implied assessment, based on certain estimates and assumptions, that the reserves or resources described, as the case may be, exist in the quantities predicted or estimated and can be profitably produced in the future. With respect to forward-looking statements herein, Palliser has made assumptions regarding, among other things; future capital expenditure levels; future oil and natural gas prices; "differentials" between West Texas Intermediate and Western Canadian Select benchmark pricing; future oil and natural gas production levels; future water disposal capacity; future exchange rates and interest rates; ability to obtain equipment and services in a timely manner to carry out development activities; ability to market oil and natural gas successfully to current and new customers; the impact of increasing competition; the ability to obtain financing on acceptable terms; and the ability to add production and reserves through development and exploitation activities. Although Palliser believes that the expectations reflected in the forward-looking statements contained herein, and the assumptions on which such forward-looking statements are made, are reasonable, there can be no assurance that such expectations will prove to be correct. Readers are cautioned not to place undue reliance on forward-looking statements included herein, as there can be no assurance that the plans, intentions or expectations upon which the forward-looking statements are based will occur. By their nature, forward-looking statements involve numerous risks and uncertainties that contribute to the possibility that the forward-looking statements will not occur, which may cause Palliser's actual performance and financial results in future periods to differ materially from any estimates or projections. Additional information on these and other factors that could affect Palliser's results are included in reports on file with Canadian securities regulatory authorities, including the Company's Annual Information Form, and may be accessed through the SEDAR website at www.sedar.com.
The forward-looking statements contained herein speak only as of the date hereof. Except as expressly required by applicable securities laws, Palliser does not undertake any obligation to, nor does it intend to, publicly update or revise any forward-looking statements, whether as a result of new information, future events or otherwise. The forward-looking statements contained herein are expressly qualified by this cautionary statement. In addition, readers are cautioned that historical results are not necessarily indicative of future performance.
Production volumes are commonly expressed on a barrel of equivalent ("BOE") basis whereby natural gas volumes are converted at a ratio of six thousand cubic feet to one barrel of oil. The intention is to convert oil and natural gas measurement units into one basis for improved analysis of results and comparisons with other industry participants. The term BOE may be misleading, particularly if used in isolation. The conversion ratio is based on an energy equivalent method and does not represent an economic value equivalency at the wellhead.
Neither the TSX Venture Exchange nor its Regulation Services Provider (as that term is defined in the policies of the TSX Venture Exchange) accepts responsibility for the adequacy or accuracy of this Press release.
Not for Distribution in the United States Newswire services or for dissemination in the United States
SOURCE: Palliser Oil & Gas Corporation
ReleaseID: 425383